No place like home | Penn Today
16 min read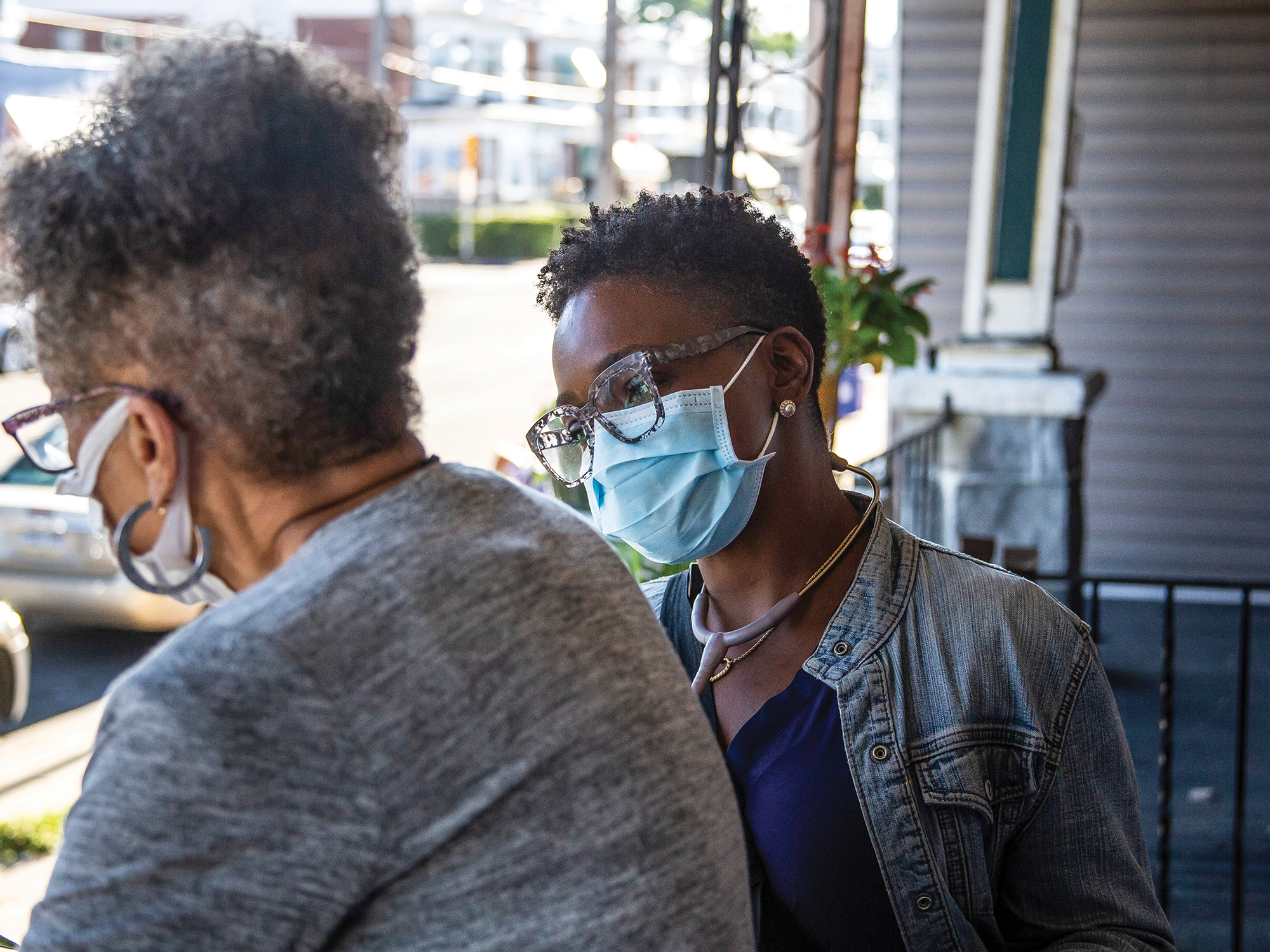 Robin and Lauren Magaziner got the bad news at just about the same time. After a relative learned that her breast cancer was tied to having a BRCA1 gene mutation, the New Hope, Pennsylvania, mother/daughter pair also underwent genetic testing, and found that they, too, carried the harmful mutation.
Along with other elevated cancer risks, a BRCA1 mutation brings a 55 to 72% chance of developing breast cancer over an individual's lifetime, according to the National Cancer Institute. The Magaziners came to the same conclusion: Rather than having what Lauren calls a "ticking time bomb" in their bodies, they both underwent double mastectomy with DIEP flap breast reconstruction, which uses abdominal tissue in place of implants.
Lauren, an author of middle-grade fiction, went first, in March 2022 and mother Robin, a retired school teacher, six weeks later. Each accompanied the other to appointments prior to surgery, providing shoulders to lean on at every step of their shared journey. Afterwards, instead of repeatedly driving from their remote Bucks County home to their surgeon's office in West Philadelphia, they both also received regular visits from Erin McCarthy, registered nurse case manager with Penn Medicine at Home. McCarthy did everything from adjusting medication to checking and eventually removing their surgical drains. One time, when Robin developed an open wound, McCarthy used telemedicine to contact her surgeon so they could, as a team, examine and address the problem.
"Erin reached one of my doctors right away, and I was able to get medicine quicker because of her," says Robin. "She was able to get the care I needed before it got worse."
Having care at home saved the Magaziners time and stress after major surgery. "I loved that I was able to do this right from the house, because otherwise we'd have to drive 40 minutes and then wait in a doctor's office," says Lauren.
"Longer in traffic!" Robin interjects.
Plus, "during recovery, I didn't feel comfortable being in the car because the seat belt pulls on your chest and stomach," Lauren says.
"The vibrations from the car can make it painful," Robin adds.
Penn Medicine provided nearly 730,000 home care visits for patients like Lauren and Robin Magaziner in the 2021 fiscal year. The push towards offering patients more clinical care inside their homes and outside of medical offices had begun before the COVID-19 pandemic. But COVID turbocharged the progress and prompted even more expansion of services offered.
"Home care has always been possible, but before the pandemic we hadn't had such a big driver to make this shift in care," says Joan Doyle, CEO of Penn Medicine at Home. COVID became that driver. "It made us re-think who needed to be in the hospital. Patients, especially those who are chronically ill and/or are immunocompromised, re-evaluated whether they really wanted to go to a clinical care setting at all," she says.
Not only has the shift to care at home been better for patients, but it also keeps hospital beds open for very sick patients at a time when many acute care hospitals are closing, and cuts down on health care costs.
For a patient receiving a complex medication infusion at home, such as a cancer therapy, a broader array of home care is also available to meet their needs, like physical and occupational therapy, says Sarah Johnson, chief operating officer for Penn Medicine at Home. It helps practitioners get "eyes on a patient in their home and maybe see if there are stressors we can address," she says.
Complex care with Fido by your side
While it grows from an old tradition, home care today spans a number of specialties and treatments that are far more complex than imagined in days past. Among the more recent additions: cancer treatments, which in the U.S. have historically been delivered in outpatient or hospital care settings.
In late 2019, the Penn Center for Cancer Care Innovation at the Abramson Cancer Center and the Penn Center for Health Care Innovation brought together a multidisciplinary team of experts to explore if home cancer treatment could—for appropriate drugs and patient populations—take the place of inpatient or outpatient infusions of chemotherapy and other drugs. They decided to pioneer a new program: Cancer Care at Home. The team focused on safety and ensured that the care delivered at home during infusion of cancer drugs was just as safe and effective as administration in the clinic. And they took advantage of the fact that Penn Medicine at Home had cared for patients with cancer for the past two decades delivering IV fluids and other treatments—even if it was brand-new to actually administer cancer drugs in the home.
Very soon after the program's official launch in February 2020, the COVID-19 pandemic made scaling it a matter of urgency. During the first month of the Cancer Care at Home program before the pandemic arrived, nurses with Oncology Nursing Society certification treated 39 patients with breast cancer, prostate cancer, and lymphoma, who can receive seven different cancer treatments at home.
"Once COVID hit, we had a lot of outpatient areas that were limiting the number of people—if any—who could get into a facility, so we shifted as many treatments as we could into the home setting," Doyle says.
When stay-at-home orders were issued in March 2020, Cancer Care at Home was prepared and scaled the program nearly 700 percent in just six weeks.
"Penn's Cancer Care at Home program showed that it was safe and effective to receive cancer drugs from the comfort of your own home in a familiar environment, even with your dog sitting right next to you," says Justin Bekelman, a professor of radiation oncology, medicine and medical ethics and health policy and director of the Penn Center for Cancer Care Innovation. "The pandemic pushed us to scale up quickly, which helped us truly see how wide this program could go. It's now a standard of care at Penn Medicine to administer cancer drugs at home for appropriate patients."
Innovations and growth
Penn Medicine is a place known for its inventions and "firsts"—the first medical school in the nation, first hospital, first FDA-approved cellular and gene therapies, mRNA technology underlying the first COVID vaccines, and many more. In the late 1960s, one of those firsts became the earliest antecedent to what is now known as Penn Medicine at Home.
In 1968, physicians at the Hospital of the University of Pennsylvania (HUP) were caring for a 36-year-old woman with metastatic ovarian cancer. Her tumor was inoperable, and she was gravely ill, unable to eat. A young surgeon, Stanley Dudrick, and his mentor, Chief of Surgery Jonathan Rhoads, had recently invented feeding technology that would soon revolutionize medicine: total parenteral nutrition (TPN), or intravenous feeding. Working with the hospital's pharmacists and alumni physicians in the patient's home town, they were able to discharge her to receive TPN at home, 120 miles from the city, to spend her final six months with her husband and young children.
A little over two decades later, in the early 1990s, James L. Mullen approached Doyle, who was then a nurse manager at HUP, to ask her to help him run the hospital's nutrition support service and start a home infusion company. They started with about 50 patients at the launch of Penn Home Infusion Therapy—a service that today cares for more than 2,500 patients at any given time.
Over the 30 years since, Penn Home Infusion Therapy has coalesced with a wide range of other services and programs under the umbrella of Penn Medicine at Home: home health, hospice, palliative care, and the community health worker program. In that time, Penn Medicine has also expanded its scope of services beyond the established home care specialties of skilled nursing; medical social services; home health aides; and physical, occupational, and speech therapy. In total, Penn Medicine at Home has 980 direct employees, not including office support staff.
"A patient anywhere in the Penn Medicine system, we are able to provide care for that patient at home," Doyle said at a Health System town hall event this spring. "I believe it is a huge differentiator for Penn Medicine to have such a strong home care program that can provide an array of services."
Then there is the chart that Kevin B. Mahoney, CEO of the University of Pennsylvania Health System, says he thinks about every day. At the livestreamed town hall event this spring, Mahoney projected it on the screen during his opening remarks, describing the growth and importance of home care for the entire 47,000-person Penn Medicine workforce. Three groupings of vertical bars show how many infusion therapies the health system provided at different outpatient settings in the last four years—advanced treatments such as chemotherapy and biologic medications. At the left, a group of dark blue bars show about 30,000 outpatient infusions per quarter at Penn's hospital campuses. The center cluster shows that a more modest number of infusions occurs at community sites. And then the third cluster of bars towers over the others, showing home infusion therapy days, consistently far exceeding infusions delivered in either type of outpatient clinic, quarter after quarter, and growing.
"This is dramatic. This is unusual," Mahoney says, adding that other health systems in the region don't follow this pattern. "This really will be part of the secret to our success as we go forward."
Right care, right place
Patients can now receive complex care at home for a broad array of treatments that long ago or just recently were only offered in clinical settings. Penn Home Infusion Therapy can treat patients for hemophilia; provide parenteral and enteral nutrition; infuse intravenous gamma globulin to treat autoimmune diseases, and colony stimulating factors for leukemia and bone marrow transplant patients; manage pain; and administer IV fluids, antibiotics, and biologic therapies for diseases from Crohn's disease to multiple sclerosis.
"We have specially trained pharmacists that participate in patient care and monitor those [home care] patients' treatments," says Doyle. Nurses are trained specifically to do infusion therapies and have access to pharmacists 24 hours a day.
The benefits of receiving care at home can be broader than one might expect from a simple change of venue from a medical office. Treatment at home can also ease some of the added burdens that aren't side effects from medications. It's what Bekelman calls "time toxicity," which is "the amount of time it takes just to be on the receiving end of all these medicines that can be truly life-saving and life extending."
Penn's Cancer Care at Home has already been shown to cut down on trips patients need to make for clinical services and time spent in the hospital. Patients with aggressive lymphoma spent 25 fewer days admitted to the hospital when they were able to receive a combined-drug therapy infusion at home.
Breast reconstruction patients at Penn like Lauren and Robin Magaziner need 58 percent fewer clinic visits in just the first 30 days after discharge, according to a study Penn researchers published in NEJM Catalyst.
Safe and effective home care at Penn Medicine has also had a big boost from combining advances in technology, including clinical equipment and telehealth—and parlaying them into permanent modes of treatment in combination with in-person care at home.
For Akilah Johnson, who works as a pharmacy technician at HUP and has had kidney disease since her early teens, dialysis today is something she can do while she sleeps thanks to Penn Home Dialysis, a home care program that operates separately from Penn Medicine at Home. The small machine she uses for peritoneal dialysis is digitally connected to her care team. "They have a better picture of what your dialysis cycles look like at night and make adjustments so treatments are better geared toward what you need," she says.
It's clear that many patients already prefer to receive care at home.
"For a lot of patients it's absolutely the convenience factor," says Home Care COO Sarah Johnson. "Schlepping to a clinic for your injection every month might not seem like a big deal, but if you get that injection at home, you're not going into a hospital and exposing yourself to the hospital environment when your immune system is compromised."
"It's deeply patient-centric care," Bekelman says. "It's making a world of difference to patients who have already been through a lot."
Connecting in the community
Penn Medicine physical therapist Renee Jones knows the importance of helping patients, especially seniors, with addressing real-world challenges within the context of where they'll be facing them: mostly in their homes. She has exclusively provided in-home care for 12 years, primarily in geriatrics. Many of her patients are homebound, and she's often helping them after they have been discharged from the hospital. A lower limb amputee herself due to a birth defect and then a car accident, she knows the importance of physical therapy and how it can help someone adapt to their world after a major physical change.
At-home care means helping patients live in their home by working within their environment, not a facsimile of it that is often very different than the real-life setting. "When you're in the hospital and having therapy, they have mock stairs. They have a mock washing machine. But when you're in someone's home, you're actually seeing what the challenges are, in real time," she says. "I can assess how their impairments and functional limitations affect their participation with their families and in the community right then and there."
The Penn Center for Community Health Workers, which now sits under the umbrella of Penn Medicine at Home, was initially established nearly a decade ago by Shreya Kangovi, an internal medicine physician and researcher from Penn's Perelman School of Medicine. The center hires and trains non-medical professionals from the community to work long-term with patients to help them manage and prevent chronic disease and its complications. The program is one of the largest and most comprehensive in the field and a national model for promoting health equity, preventing hospitalizations, and reducing health care costs.
As Ernest Gardner, a senior community health worker, described at the spring Health System town hall, sometimes it takes time to get a patient to feel comfortable opening the door to their home. Gardner gradually built trust with one such patient, who had been repeatedly admitted to the hospital for chronic obstructive pulmonary disease (COPD), especially in the summer months. "I visited his home in 90-degree weather," Gardner recalled. "All he had was a box fan for ventilation and cooling, so that definitely contributed to his COPD exacerbation." Gardner shared that information with the patient's primary care practitioner, and ultimately she purchased an air conditioner for her patient.
Penn is also using partnerships to help its community-based workforce have the most impact, and extend to other sites where patients live which might not be customarily thought of as "home." For example, an influx of severely ill COVID-19 patients who were nursing home residents in 2020 provided an impetus for Penn Medicine to forge stronger connections with nursing homes, initially in West Philadelphia. With grant funding from the state of Pennsylvania, Penn Medicine at Home has expanded its partnerships to 800 long-term care facilities across the region.
During the COVID vaccine rollout, the health system's effort to get shots into peoples' arms in the most convenient places, from churches to recreation centers, also extended into the home. Penn Medicine partnered with the Philadelphia Department of Public Health to give about 5,000 COVID vaccines to people in their homes, many of them home-bound seniors, and became the largest home provider of vaccines in the city.
Challenges on the road ahead
About 3,000 of Penn's cancer patients receive care or supportive services in their home, but that only accounts for about 20 percent of patients receiving cancer care from Penn Medicine.
"Patients who receive really complex chemotherapy can't really do that at home," says Home Care COO Sarah Johnson. "For many of our patients, we want them in a hospital suite with access to rapid response in case they need it."
In order for a patient to receive cancer treatments at home, they must "have a low risk of adverse events, have tolerated the treatment, and are likely to continue to tolerate the treatment well," Bekelman says. Their cancer drug must also be easy to transport and then refrigerate at the right temperature at home, if necessary.
Medical providers also have to account for what is involved if an adverse event does happen. "Some of these side effects are things patients would experience in the clinic—the same at home. If a nurse can help with those in a home care setting, then there's no reason we can't administer it at home," he adds.
Penn faces the same staffing shortages that have hit health care systems across the country, and without enough staff, home care services can't happen. "The last two years have been extremely hard and challenging on our entire team," says Doyle.
"We recognize that the job is hard and it requires commitment and dedication, so we're looking at ways that we can accelerate recruitment and improve retention—all those things that make an organization an employer of choice," she says.
Expanding the business
Keeping patients at home means that hospital facilities have more space for those patients who truly need to be there. That was crucial in the first surge of the COVID-19 pandemic. "We were worried that our health system, like many health systems in the country, would be over capacity," Doyle says.
Hospital closures across the region have already increased demand for the remaining inpatient beds, and industry experts anticipate more closures in the years ahead. For Penn Medicine, additionally, home care can relieve bottlenecks in access to specialists.
In the years ahead, Penn Medicine's expansion of acute care offerings for patients in their homes is likely to continue—more patients, with more conditions, and more types of medications.
Bekelman expects that the types of cancer drugs they can give at home will expand, especially as the FDA greenlights more at-home administration. Several monoclonal antibody and other targeted therapy cancer treatments approved by the FDA in the last two years, for example, can be administered at home.
Penn Medicine at Home is further making strategic investments in expanding home infusion therapy across the region, with the integration of Horizon Healthcare under the full ownership of Penn Medicine Lancaster General Health (LGH) in January 2022. The collaboration between Horizon and Penn Home Infusion teams is still in early stages, Doyle says, but it has exciting potential both in terms of sustaining a wide geographic reach for Penn Medicine patients to receive home infusion across the region, and in terms of building a deep bench of highly skilled home infusion staff.
Penn's kidney care programs, which already include at-home care for many patients, are expanding and innovating, too. In March 2022, Penn Medicine formed a joint venture with Nashville-based Evergreen Nephrology. The program has contracted with Centers for Medicare and Medicaid Services to provide value-based care for Medicare patients with advanced chronic kidney disease or who are on dialysis, with the goal of reducing the need for emergency department visits and hospitalizations.
That means more patients like pharmacy technician Akilah Johnson will stay out of the hospital and receive the care they need at home while waiting for a transplant — something that has made a big difference for Johnson, who has dealt with kidney disease most of her life and had two prior transplants. She started receiving dialysis at home for the first time just as she was starting ninth grade. As a result, she didn't have to take time off school for dialysis treatments, or travel to and from a dialysis center several times a week.
The value of that convenience at any stage of life is hard to overstate. As the baby boomer generation continues to enter its geriatric years, the aging population has become a large driver of Penn Medicine's ongoing efforts to expand home care.
"We are really focused on figuring out where we're going to care for the aging population," Doyle says. "And most of those people want to stay home."
Penn Medicine at Home runs a small geriatrics-focused program in West Philadelphia which leaders hope to expand to meet needs in other areas. There's also an initiative to bring Penn Medicine physicians to retirement communities to make care more accessible. And Senior HealthLink, a program that pairs nursing students from local universities with home care nurses, offers patients in Chester County ongoing monitoring and consultation to ensure they will stay healthy after they no longer need skilled nursing care at home.
For Valerie Simon of Southwest Philadelphia, returning home from the hospital after breaking her hip this summer was only the first step toward staying there. A retired grandmother with Parkinson's disease, Simon has a particular destination in mind in her recovery: the corner store just a short distance away, so close it's visible from her front porch. Before this most recent fall, if she needed an onion or a half dozen eggs, she could walk there using just a cane that she could carry down the stairs herself. Now, she relies on a walker that is too bulky to hold while gripping the stair railing, and she gets fatigued trying to cross the busy street before the light turns red.
If she were going to physical therapy appointments in a clinic, Simon would still do the same exercises for strength, endurance, and balance that Renee Jones does with her at home. But she wouldn't get the real-world practice she does with her home-care physical therapist at her side.
On a recent crisp September morning, after leaning on her sturdy stone porch post for balance during her strength exercises, Simon navigated the uneven sidewalks with Jones at her side. Jones then helped her repeatedly practice stepping up at the curb's edge in front of the store to ensure she knows how to avoid tripping. Along the way on the slow, careful walk, the two laughed and joked like old friends.
When they arrived back at Simon's front steps, she sat on her walker to rest for a few moments. She was tired—she wasn't yet able to do all she hoped for, or to do it on her own—but most importantly, thanks to Jones' attention to the exact care she needed, in the place where she needed it, she was getting there. And she was home.
To read the full story, published in Penn Medicine Magazine, visit Penn Medicine News.